We kindly ask that all campers read and follow these guidelines. They are in place so that everyone can have a safe, and peaceful experience with us. Thank you for your cooperation!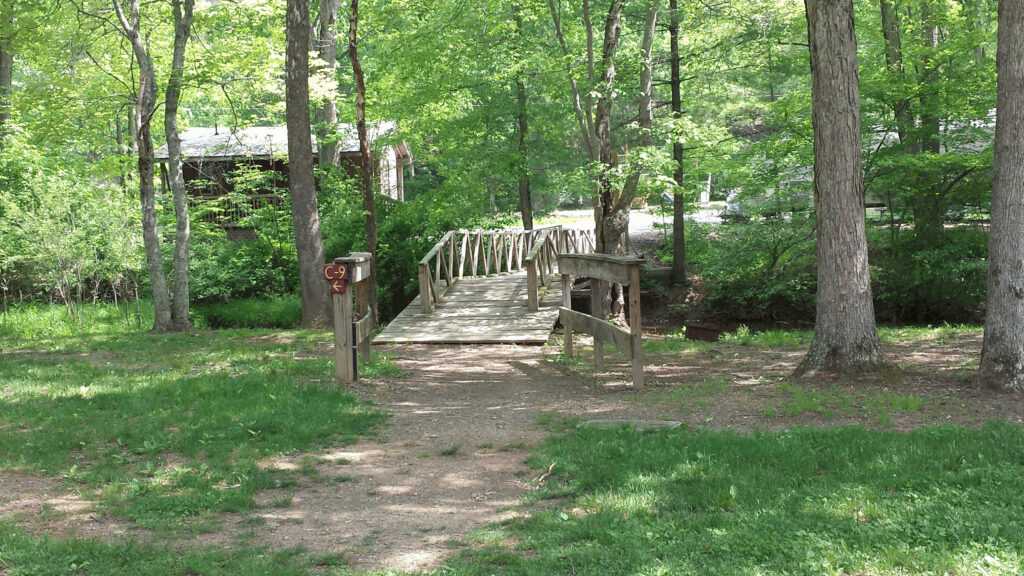 ---
Check-in: 2pm        Check-out: 11am       Quiet Hours: 11pm to 8am
Visitor's Pass: All visitors must check-in at front office to purchase a pass. Visitor hours are 10am – 10pm.
Extending Your Stay: If you would like to extend your stay, please let us know by 11am check-out. *If your site is requested by another guest moving sites may be required
Laundry Room: The Laundry Room is located beside the Camp Store and is available 24\7 for your convenience.                                   Washer: $1.50 per load Dryer: $1.75 per load 
Golf carts: Campers are permitted to bring their own golf cart for personal use. *Licensed Drivers Only*
Pets: Dogs are welcome; however, they must be leashed and attended when outside your camper. We expect guests to clean up their pet waste and place used waste bags in dumpster. Dogs may not be left unattended, be allowed to bark excessively, or disturb the stay of our other guests during quiet hours. We provide a dog walking area that is located by the driveway. Please refrain from walking pets in campsites, playground, or rec-room.
Trash: You are responsible for handling your own garbage.  Multiple trash cans are available on the grounds, in addition to a dumpster that is located at the front of campground for your convenience.
Firewood: *No outside firewood permitted* We sell local firewood that will prevent the spread of new diseases in the forest. Campfires are to be contained to fire rings only, do not leave fires unattended. We ask that all guests refrain from driving nails or any other hardware, cutting, breaking, or in any way harming the trees. 
Fishing Pond:  Fishing Pond is available for use from 7am – Midnight, bait is available in Camp Store. *Catch and Release Only
Pool Hours: Hours for Campers: 10am – 10pm / Hours for Non-Campers: 10am – 7pm
No Lifeguard on Duty: Children that intend on swimming must be supervised by an adult.
Camp Site Rules: Clotheslines are not permitted. No washing or repairing cars, trucks, campers, RVs.
Accidents and Lost Items: Deer Trail Park is not responsible for accidents and lost or stolen items.
Bicycles: We ask that guests use proper safety gear and precautions when riding bikes, scooters, or anything similar on grounds. Any bicycle that is being ridden after dark must have front and rear lights. 
Wi-Fi: We are working our hardest to provide campers with a quality wireless connection throughout the campground.  We ask that everyone limit any streaming or gaming activities so that we can provide a solid connection to all our guests.  
Driving: We ask that all campers exercise caution when driving through the campground and follow the posted speed limit of 8mph.
---
*We reserve the right to remove anyone from the park that is violating our rules, verbally or physically abusing others, destroying or defacing property, or creating a disturbance.
Thank you for your cooperation. Have a blessed day!